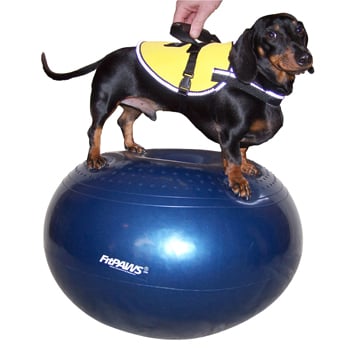 The FitPAWS® Donut may be used as a balance training tool or for core strengthening for small dogs that may be overwhelmed by the Peanut. It can also be used for weight bearing therapy.
It is made with a professional-grade heavy-duty PVC material that resists tearing caused by dog nails. The FitPAWS Donut provides a moderate balance challenge. Its broad base offers more stability than a round ball.
You can also adjust the balance challenge by under-inflating so the ball is not as firm. It has textured bumps on one side and a smooth surface on the other side.
It is approximately 12″ high and easily inflates/adjusts with the included hand-held air pump.
FitPAWS® Donut Large Dark Blue - 49.95
You may also like...