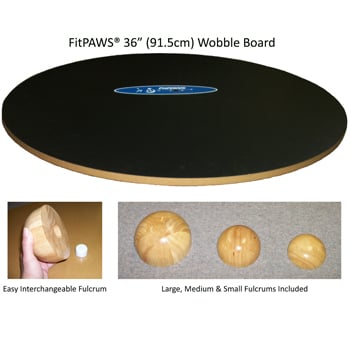 Sold

Out
FitPAWS® 36" Wobble Board
Sold

Out

$

186.95
The FitPAWS® 36" Wobble Board is a great dynamic balance training tool to add to your dog's cross-training as it swivels a full 360°. Your dog will not only develop balance skills but will also improve its core strength as it works to maintain its center of gravity on the board. Training regularly on the FitPAWS Wobble Board is a good way to maintain strong joints, range of motion and mobility.
The FitPAWS® 36" Wobble Board features an extra-large non-slip textured surface that is big enough for most dogs. It includes three interchangeable fulcrums (Large, Medium and Small) for different balance challenges and degrees of difficulty. For beginner dogs, you can even start without any fulcrum so that your dog gets used to the feel of the board. Then add the Small fulcrum and progress to the Medium and Large fulcrums as your balance training evolves.
The extra-large surface (36" or 91.5cm) makes this board indispensable for the canine rehab professional as it allows you to stand on top of the board with your client dog.
Price: $186.95
You may also like...